Description
Choose your own scents for this Christmas Candle Gift Set
How fun would it be to both create and receive this as a gift? It's your choice of Lovely Greens Christmas candles displayed in a natural jute bag with clear display panels. You can select all different scents or any combination that you'd like.
The candles themselves are each 125ml, and made of a p clean plant-based wax. Soy wax is not only suitable for Vegans but burns very cleanly in the home, helping to minimise indoor air pollution. Hand-poured into 125ml aluminium tins, these Christmas candles are made using a natural fibre wick, phthalate-free fragrance, and will burn for approx. 17-20 hours each. For best results, trim the wick to 1cm before lighting.
Sustainability note: the aluminium tins are recyclable and the jute bag can be reused
Each of these candles in the Christmas Candle Gift Set is also available in a larger 225ml size. Browse all Lovely Greens Christmas items.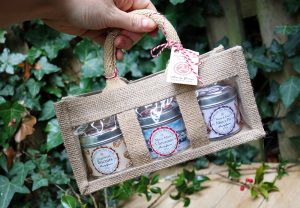 Please spread the word by sharing on social media -- thank you :)