Handmade Mince Pie Candle
£10.00
Smells like warm and fruity mince pie with a deliciously buttery undertone
4 in stock
Description
Sweet and fruity Mince Pie Candle for a Festive Christmas
I'm very pleased to introduce the newest product in Lovely Greens' range — the Mince Pie Candle. It smells so good that you could almost eat it! Imagine the scents of warm and fruity filling and golden buttery crust. It will fill your home with the scent of Christmas baking with none of the calories.
Lovely Greens candles are handmade from a natural and sustainable plant-based material. It burns cleanly, helping to ensure the air quality inside your home. Soy wax candles are biodegradable, burn longer than paraffin candles, and are easy to clean up if spilled – just a bit of warm soapy water will remove it from most hard surfaces. The candle volume is 185ml.
Hand-poured into an aluminium tin, this mince pie candle is made using a natural fibre wick, phthalate-free fragrance, and will burn for approx. 28 hours. For best results, trim the wick to 1cm before lighting.
Christmas gifts from Lovely Greens
This mince pie candle is available in a smaller size as part of the Christmas Candles Gift Set. It's a trio of smaller candles including Merry Manx Christmas, Gingerbread Biscuits, and Cranberry Marmalade. See all Lovely Greens' Christmas items.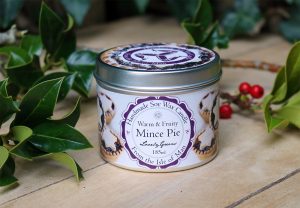 Additional information
| | |
| --- | --- |
| Weight | 225 g |
| Dimensions | 7.5 × 7.5 × 6 cm |