Description
In Lovely Greens soap making lessons on the Isle of Man you'll learn to make natural soap using pure oils and natural colour and fragrance.
If you'd like to purchase a gift voucher for a lesson for next year, head over here. The way it works is the recipient gets in touch and schedules their own workshop date in 2020.
Making your own soap is a creative and useful skill to have and once you learn how, you can make your own bars of natural soap for personal use or to give as gifts to friends and family. Read reviews for Lovely Greens soap making lessons here.
In the lesson you'll make two batches (10-12 bars) of handmade soap using pure oils, natural fragrance, natural colours, and dried flowers and botanicals. After the class you'll take your soap home, slice it into bars, cure it, and be on your way to being self-sufficient in cold-process soap making.
You may book through this website using PayPal (or your debit/credit card via PayPal) or Email Tanya for further payment options. If you'd like to purchase a general voucher for any of the open lessons in the next 12 months, you can do so here.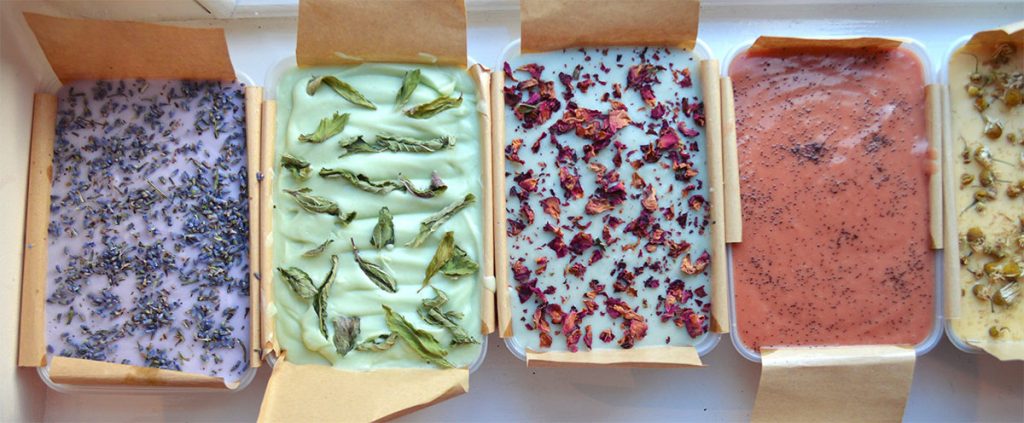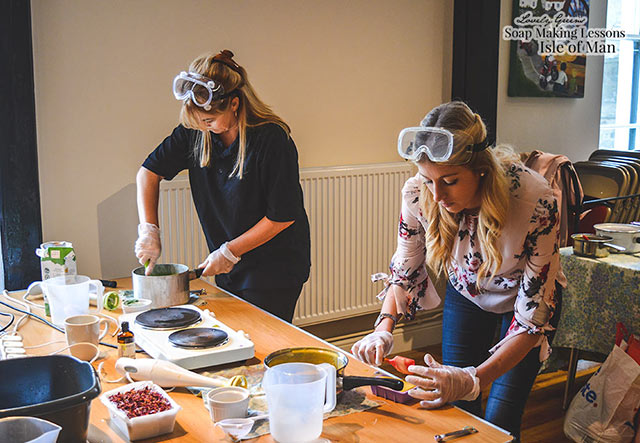 Two batches of your own Handmade Soap
During the lesson you'll learn the basics in making a first batch of soap. Afterwards, you move straight into making a second batch. In making both you're able to choose your own fragrance and colours.
Some of the essential oils you can choose from include: Lavender, Patchouli, Citronella, Lemongrass, Peppermint, Rosemary, Sandalwood, Ylang Ylang, or you could go for unscented. Dried flowers and minerals can also be used to decorate and to naturally colour your bars.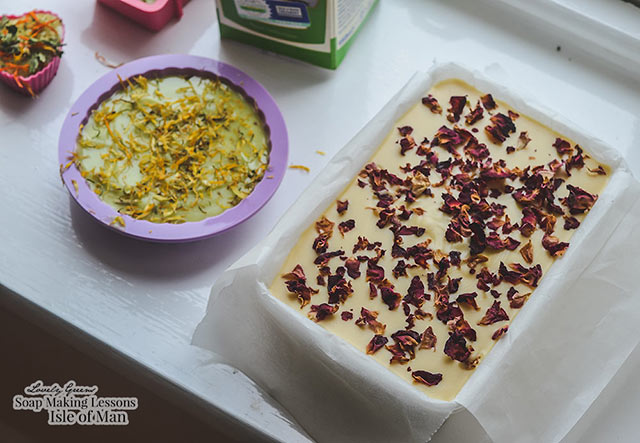 On the Day
Open soap making lessons are held at the Laxey Working Men's Institute on the Isle of Man. They begin at 2pm and are about 2 to 2.5 hours long. Light refreshments and beverages are served afterwards so please indicate any special dietary requirements.
For the class, please bring an apron, a cardboard box/shoe box, a towel, and (optionally) an empty paper milk container. You may also bring your own soap moulds if you wish to purchase them beforehand. You can find an excellent assortment of silicone types here*.
After your soap is made you'll take it home and cure it for a month before using it. Further information and home instructions.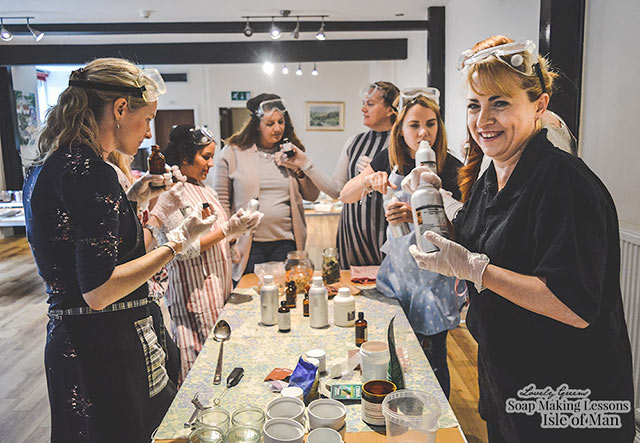 Booking private lessons
If you're interested in booking a private group or one-on-one lesson please be in touch. Flexible dates and times are available.
The price for a private lesson will vary depending on group size — you can book as an individual for or up to eight people. The starting price is £200 and the maximum price for a private group is £395 (group of 8)
* Lovely Greens is a participant in Amazon Services LLC Associates Program, an affiliate advertising program designed to provide a means for us to earn fees by linking to Amazon.com and affiliated sites
Please spread the word by sharing on social media -- thank you :)