Soapmaking Workshop in the Isle of Man
£59.00
Make your own handmade, natural soap in a small class on the Isle of Man. You'll make 12 bars on the day with your choice of essential oils, dried flowers, and natural colours.
Description
In Lovely Greens soapmaking workshops in the Isle of Man, you'll learn to make natural soap using pure oils,natural colour, and fragrance.
In this natural soapmaking workshop, you'll make two batches (10-12 bars) of handmade soap using pure oils, natural fragrances, natural colours, and dried flowers and botanicals. Each workshop can have up to nine people in attendance, which makes for a small, fun, and creative group. After the class, you'll take your soap home, slice it into bars, cure it, and be on your way to being self-sufficient in cold-process soap making.
Making your own soap is a creative and useful skill to have, and once you learn how, you can make your own bars of natural soap for personal use or to give as gifts to friends and family. Read reviews for Lovely Greens soapmaking workshops.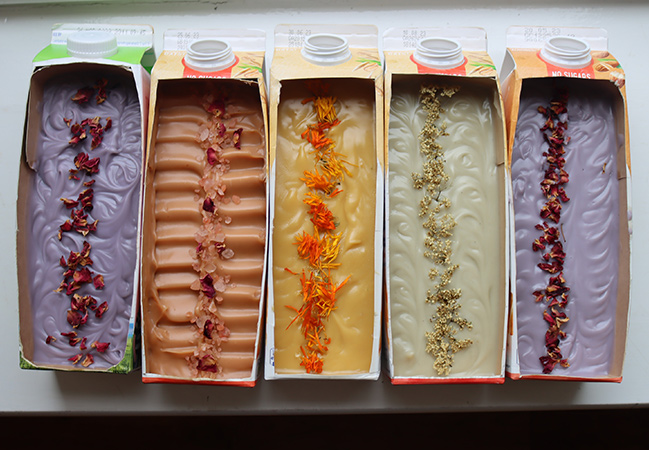 Make Two Batches of Handmade Soap
The workshop begins with an introduction to cold-process soapmaking and a tour of the different stations in the room. You'll then choose soap additives for your first batch of soap and jump right into making it. Afterward, there's a short 10-minute break before you move straight into making a second batch. Some of the essential oils you can choose from include lavender, patchouli, citronella, lemongrass, peppermint, rosemary, rose geranium, and ylang-ylang. You could go for unscented, too. Dried flowers and soap colorants can also be used to decorate and naturally colour your bars.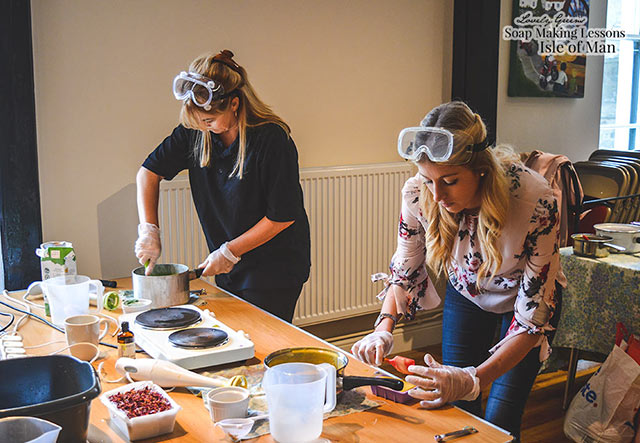 Online Natural Soapmaking Course
If you are unable to visit the Isle of Man for this workshop, you can enroll in the online soapmaking course. Through videos, I take you through the basics of making handmade cold-process from scratch, including step-by-step soap recipes. It's a great way to learn to make homemade soap, and it includes far more detail than I'm able to go through in the in-person workshop. No matter where you are in the world, I'll guide you through the process from the comfort of your kitchen.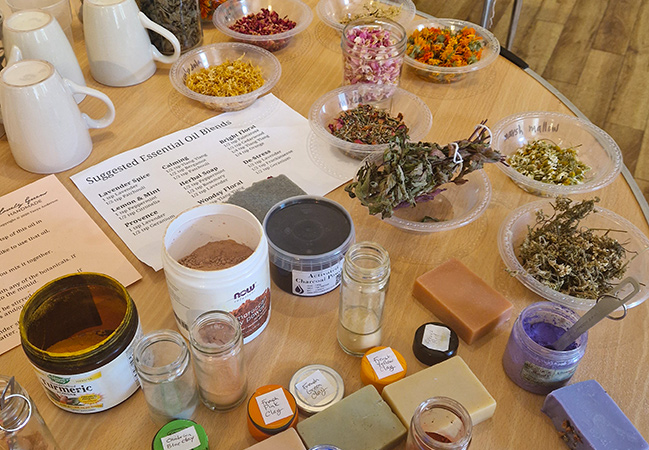 What to Bring On The Day
Soapmaking workshops are held at the Laxey Working Men's Institute on the Isle of Man. They begin at 2 p.m. and are about 2 to 2.5 hours long. Hot beverages and nibbles are served during the lesson, and most equipment and materials are provided. When you come to the workshop, please bring an apron, a cardboard box/shoebox, and an old towel. Paper drinks cartons are provided as soap molds, but you may also bring your own if you wish. Here's where you can find an excellent assortment of silicone molds*. After your soap is made, you'll take it home and cure it for a month before using it.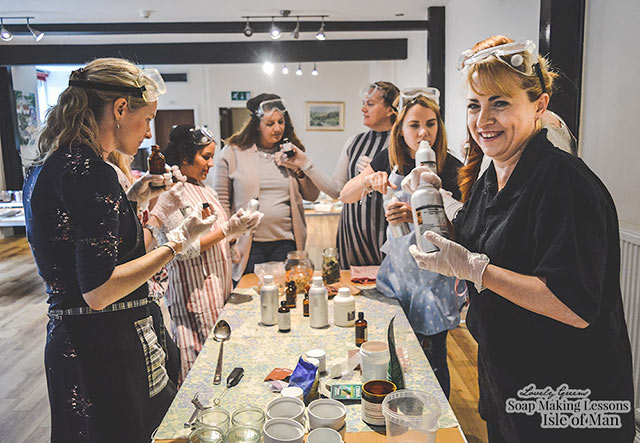 Workshop Terms and Conditions
This is an adults-only workshop, and you may also purchase places in soapmaking workshops to give as gifts. Please indicate if you would like a free gift voucher sent to you during the checkout process. If you'd like to purchase a general voucher for any of the soapmaking workshops in the next 12 months, you can do so here. The recipient would get in touch to book the date they wish to attend.
Places in Lovely Greens workshops may be canceled for a full refund up to seven days before the workshop. After this date, refunds are not available, and further information is here.
Further Information
Lovely Greens is currently not taking private bookings.
Scheduled workshops are for adults only — no children under 18 years of age.
* Lovely Greens is a participant in the Amazon Services LLC Associates Program, an affiliate advertising program designed to provide a means for us to earn fees by linking to Amazon.com and affiliated sites