Description
Neem Treatment Balm for Eczema
This all-natural skin salve is made with luxurious oils, including Neem oil, that soften, soothe, moisturise, and protect. The ingredients are pure and simple and no fragrance is used to ensure that the product is as sensitive as possible. Many people have used Neem Treatment Balm as an eczema cream as you can read about in the reviews.
Listing is for one 100ml screw-top tin. If you would like to purchase a smaller pot to test the product, I have a listing for a 10ml pot here. 
Benefits of Neem Treatment Balm
Soothes the skin
Keeps your skin moisturised
100% Natural
Neem Treatment Balm also works an emollient. Shea Butter nourishes your skin while the Beeswax helps lock moisture in. The consistency is that of ointment and it melts on contact with your skin making it easy to massage in.  it's different from a traditional eczema cream in that it's composed mainly of rich oils rather than water. Here are a couple reviews:
"I recently purchased the neem balm for psoriasis on my hands and it's wonderful! Within minutes it stops the itching, dryness, and irritation. I've tried prescription ointments and UV light therapy but nothing takes away the itchiness like the neem balm. I highly recommend this product! – Melissa – May 12th 2015"
"This is the best stuff I ever used. I love the fact that it is all natural and handmade. I have eczema in the palms of my hands and dry patchy scales on my arms and this balm gave me relief, literally, within minutes. It also helped stop the itching and peeling. I have highly recommended this to everyone I know. I also refer them to your website. Thanks, Tanya, so much for your wonderful neem balm. I just love it. – Patti – Jul 7th 2015"
Although this product is not considered a medicinal product, we have many customers who use it for treating their Eczema and other skin conditions as you can see in the reviews. Aside from the oils that nourish and protect your skin, the product also contains Neem oil which has a long history of being used in the Ayurvedic tradition.
Directions: apply a small amount at first to test for skin sensitivity*. Afterwards, massage onto skin when needed.
Further information and usage for Neem Treatment Balm

Ingredients: Sweet Almond (Prunus amygdalus dulcis) oil, Shea Butter (Butyrospermum Parkii) , Cocoa Butter (Theobroma Cacao), Castor (Ricinus Communis) seed oil, Manx Beeswax (Cera alba), Neem (Melia Azadirachta) seed oil (5%), Vitamin E (Tocopherol) oil, Azadirachtin* *natural component of neem oil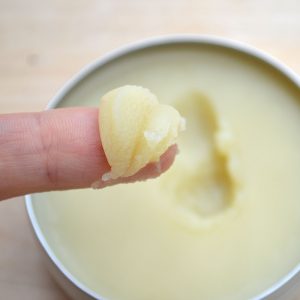 Please spread the word by sharing on social media -- thank you :)