Description
Natural calendula salve for everyday skin conditioning and for treating minor skin complaints
Calendula flowers contain bioactive constituents that could help speed up the healing of minor wounds and burns. To make this natural calendula salve, the entire dried flower heads were seeped in a carrier oil then blended with Isle of Man beeswax and shea butter. The petals also give this balm a lovely golden colour.
The beeswax in this balm comes from my own hives as well as those of other small-scale beekeepers on the Isle of Man. None of the hives are treated with chemicals and the bees live happy and healthy lives. It also contains shea butter, a highly conditioning plant-based oil that restores elasticity to the skin, and sweet almond oil, a light-feeling oil excellent for all skin types.
A recipe sharing how to make calendula salve is in my new book, A Woman's Garden, published with Cool Springs Press and currently on presale in the UK, USA, and several other countries. I also have an ebook available sharing how to grow, harvest, and use calendula for skincare.
Listing is for a 100ml tin of body balm
Ingredients: Sweet almond oil (Prunus amygdalus dulcis) oil, Shea Butter (Butyrospermum parkii), Isle of Man beeswax (Cera alba), Calendula (Calendula officinalis) flower extract, Vitamin E (Tocopherol) oil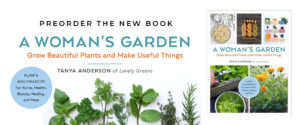 Tanya Anderson is a participant in the Amazon Services LLC Associates Program, an affiliate advertising program designed to provide a means for sites to earn advertising fees by advertising and linking to amazon.com and amazon.co.uk. As an Amazon Associate, I earn from qualifying purchases.