Sold Out!
Natural Christmas Wreath Workshop
£49.00
Join us on Saturday, December 2nd for the Natural Christmas Wreath Workshop. You'll decorate your very own natural Christmas wreath using locally sourced greenery, berries, and natural decoration. All materials are provided for this Isle of Man workshop.
Out of stock
Description
Join Lovely Greens for a Natural Christmas Wreath Workshop
In this holiday workshop, you'll decorate a natural wreath base with foraged greenery and festive decorations. It's set to be a festive day of holiday music, treats, and creativity!
Join us on Saturday, December 2nd, for a creative and festive day making your very own natural Christmas wreath. All of the materials will be provided, and you'll first create an evergreen-based design on a provided wreath base. Then, you'll decorate it further with foraged berries, pine cones, ribbons, and other natural decorations. At the end of the day, each participant will go home with their own beautiful handmade wreath! You can hang it up outside or on your front door, and it will look great for several weeks. After the holidays, you can compost most of it and save the other elements for next year.
Though most of the materials will be provided, you are welcome to bring additional decorations and greenery from your garden. In the past, other participants have brought small Christmas ornaments and battery-powered LED fairy lights.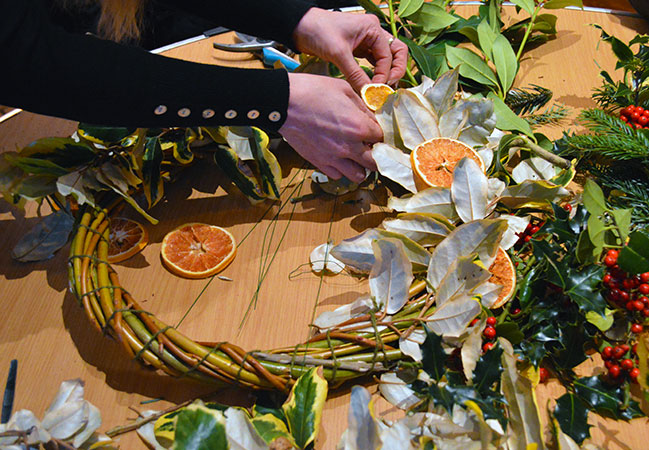 Christmas Wreath Workshop on the Isle of Man
Tickets are limited to just 20 for the event, and both adults and older children are welcome. The event is also wheelchair accessible through the back door of the institute. Though mince pies and warm drinks will be provided, I recommend that you please bring a packed lunch with you as well. There's a Co-op nearby if you need to pick up any sandwiches or additional drinks.
If you've come to a wreath-making workshop in the past, feel free to bring your willow ring made in those years to redecorate on the day. We've also shown how to make willow star decorations in previous Christmas wreath workshops, and that tradition will continue. You can use your willow stars to decorate your wreath or take them home as Christmas tree decorations!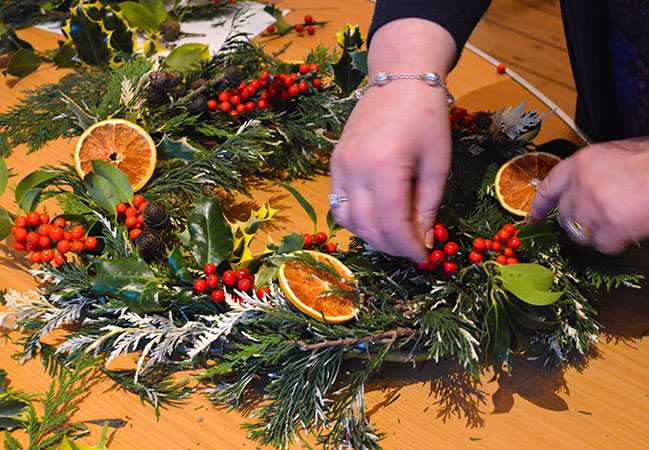 Event Information
The lesson will take place at 12 pm on Saturday, December 2nd, 2023. It should last about 2-2.5 hours and will take place downstairs at the Laxey Working Men's Institute on New Road in Laxey. The venue is a few doors down from the Laxey Co-op, and parking is available on the street along Captains Hill or Church Hill or at the Laxey Pavilion. Christmas music and refreshments will be served during the lesson, and it's set to be a creative and festive day for all!
This workshop is hosted by Tanya Anderson of Lovely Greens with the help of Karen Griffiths, head gardener of Cregneash, Manx National Heritage. If you have any questions, please be in touch.