Willow Garden Obelisk Workshop
£49.00
Learn the art of weaving natural plant supports in the Lovely Greens Willow Obelisk Workshop on January 27th, 2024. It includes an introduction to willow and step-by-step guidance on creating a beautiful garden obelisk from scratch.
16 in stock
Description
Learn to weave willow garden obelisks using locally foraged willow switches. Workshop taught by Tanya Anderson of Lovely Greens and Isle of Man willow legend John Dog Callister.
This workshop will be on Saturday, January 27th, 2024, at 11:30 a.m. Gift vouchers are available upon request.

Willow Garden Obelisk Workshop
If you have ever wanted to know how to create beautiful, handmade plant supports, now is your opportunity. The Lovely Greens Willow Garden Obelisk Workshop begins with an introduction to willow and willow weaving. You'll then be instructed, step-by-step, how to weave a stunning garden obelisk. Garden obelisks are used outdoors to create a framework for growing climbing plants. You can grow sweet peas on them, clematis, beans, and any other plant that likes to climb. The workshop will take approximately four to five hours, and by the end, you'll have a finished piece to take home. If you make smaller obelisks like the one shared further below, you may even be able to make two.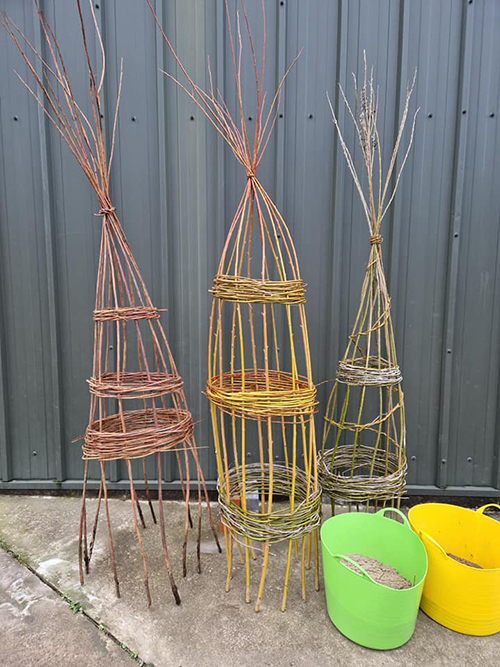 About the Willow Garden Obelisk
The willow obelisk you'll make in the workshop will be approximately five feet tall. The willow switches provided in the workshop may come in various colours, including yellow, red, green, and brown. All colors will fade and darken over time into natural tones of light brown to chocolate. The willow of your obelisk will darken as it dries, leaving you with a beautiful wooden piece to add to your cottage garden. You can use it over the growing year, and by storing it indoors over the winter, it can last for several years.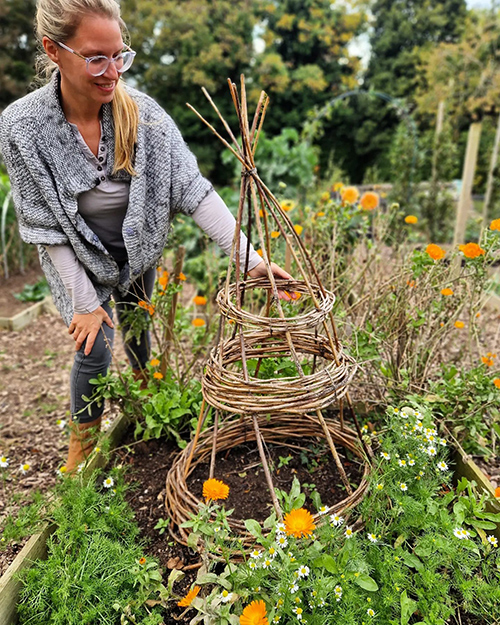 Further Workshop Information
This workshop is available to book individually or in small groups, with the maximum number of attendees being twenty. This is an adults-only workshop.
On the day, please bring a vehicle that is large enough to transport your DIY garden obelisk home. Ordinary cars with their back seats folded down are fine. Alternatively, contact Tanya ahead of time to discuss other options. Please also bring these items with you to the workshop:
A packed lunch
A large bucket or trug that's been half-filled with soil or sand. The diameter of the bucket/trug will be the diameter of your garden obelisk.
Pair of sturdy secateurs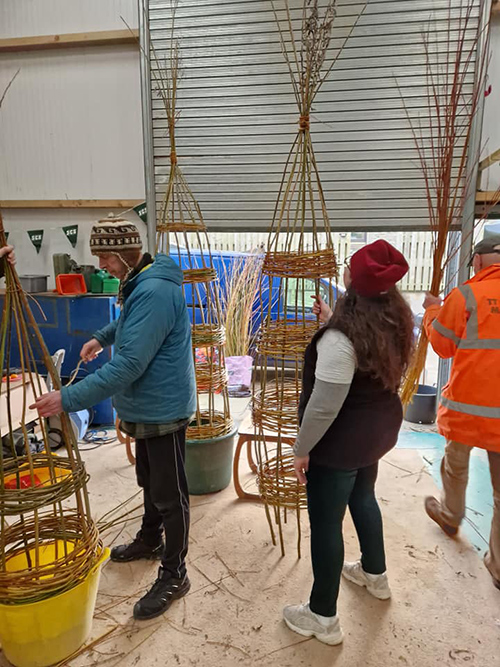 Workshop Venue
We are still finalising the workshop venue but will update this page and email attendees when that information is available.
More Lovely Greens Workshops
If you'd like to join the Natural Christmas Wreath Workshop or a Natural Soapmaking Workshop, you can learn more and book on this website.