Description
A creamy natural peppermint lip balm blended with peppermint oil
Arriving in a small aluminum pot, this handmade lip balm is made with simple ingredients that help condition your lips no matter the season. The consistency is firm but creamy enough to scoop up with your finger and smooth onto your lips. Scented and flavoured with peppermint, it also has the sweet characteristic scent of beeswax. Beeswax is an ingredient that firms the balm and as it isn't absorbed by your skin, it helps to create a protective barrier. This lip balm also contains shea butter, a highly conditioning plant-based oil, and sweet almond oil, a light-feeling oil excellent for all skin types.
The small amount of peppermint oil in this lip balm gives it a herbal aroma and slightly cooling sensation when applied. It's very refreshing and perfect for lips all the year-round.
Buy this peppermint lip balm as a single or save when you buy three for £9.75. Choose all peppermint or mix and match with strawberry and natural.
Listing is for one 10ml pot that should be used within six months of opening and is for external use only. Ingredients: sweet almond (prunus amygdalus dulcis) oil, shea butter (butyrospermum parkii), beeswax (cera alba), peppermint (mentha piperita) oil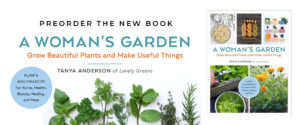 Tanya Anderson is a participant in the Amazon Services LLC Associates Program, an affiliate advertising program designed to provide a means for sites to earn advertising fees by advertising and linking to amazon.com and amazon.co.uk. As an Amazon Associate, I earn from qualifying purchases.